What can I do to shape the culture of my organization?
Key Definitions
A culture is the set of unwritten social rules determining how people are expected to behave – norms that govern how we should conduct ourselves, literally telling us what is normal. These norms are rooted in certain shared beliefs (what is true) and values (what is important). Any group of people can develop a culture, from a nation to an organization or even a team.
Cultures are notoriously difficult to change, as the shared beliefs and values seem self-evident to the people immersed in the culture and individuals internalize behavioral norms as part of their identity, deriving moral certainty, pride, and a sense of community from them.
Conceptual Model
The Cultural Fabric Model describes the four types of "threads" that can be employed to weave a renewed culture for any group of people, whether a team, department, unit, organization, industry, or nation. The metaphor of weaving a fabric is intended to convey the notion that cultures are not constructed like a machine, but delicately spun and knit together from a multitude of initiatives, none of which is strong enough by itself, but jointly create a robust and durable whole. The model suggests there are four types of culture-weaving initiatives (in the light blue rectangles), that differ along two dimensions, described in more detail below.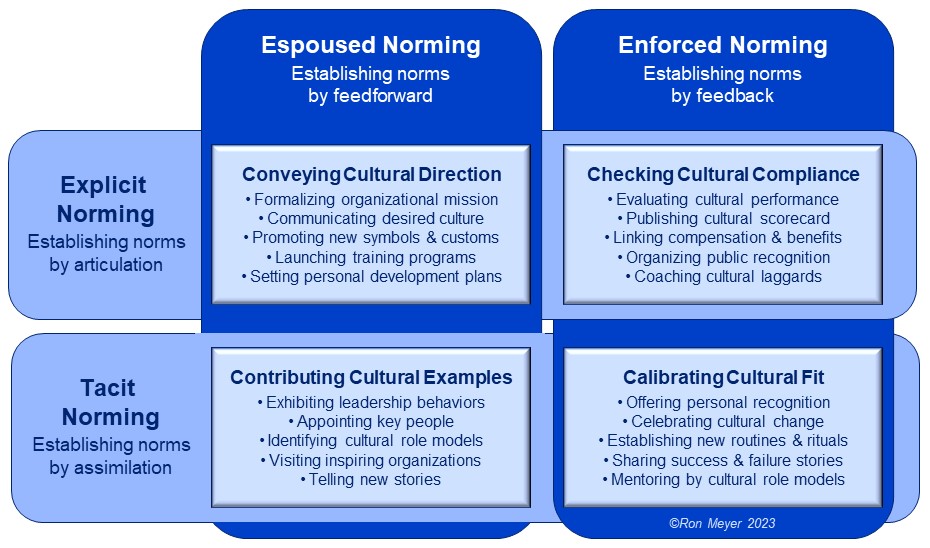 Key Elements
The four types of culture-weaving initiatives differ along two dimensions:
Espoused vs. Enforced Norming. To reshape a culture, you need to advertise which new behaviors you expect and then check up on whether people are conducting themselves in this new manner. The advertising upfront is called espoused norming – you proactively communicate which rules people should embrace (steering by feedforward). The checking along the way is called enforced norming – you steer people by feedback on how well they are doing, rewarding appropriate behavior, and pushing for changes where needed.
Explicit vs. Tacit Norming. To reshape a culture, you need to get people to learn new behaviors. This learning can be driven by explicit norming – precisely articulating what it is that needs to be learned, then transferring these tangible norms to the receiver, who then needs to understand and internalize them. But people can also learn by being exposed to tacit norming – the new norms aren't spelled out but can be indirectly derived and copied from examples and circumstances. This is learning by assimilation, instead of articulation.
These two dimensions lead to the following four types of culture-weaving initiatives:
Conveying Cultural Direction. These explicitly espoused norming initiatives are all directed at communicating the desired cultural change by making the unwritten social rules more written. By making the new behavioral norms more tangible and easier to understand, it is hoped that people will more readily adopt them and change their behavior accordingly.
Checking Cultural Compliance. These initiatives are all directed at explicitly enforcing that people stick to the new cultural norms. They include providing tangible feedback on how well the group and the individuals are doing, as well as rewards for exhibiting the desired behavior and corrective measures where the expected conduct is found lacking.
Contributing Cultural Examples. Instead of explicitly saying what the behavioral norms should be, they can also be shown and speak for themselves. These initiatives are all intended to communicate the desired culture by example, so that people become inspired and start to believe that the espoused changes will truly happen.
Calibrating Cultural Fit. Finally, these initiatives are directed at the ongoing fine-tuning of people's behaviors by tacitly and subtly reinforcing the positive and discouraging dissonance. People can be continuously nudged in the right direction by appreciating what went well and helping them to see what they could have done better.
Key Insights
Shaping culture is hard. To people who share a culture, their norms are normal – these unwritten rules are self-evident and have become part of people's identity. Adapting these norms, and underpinning beliefs and values, is a gradual process that can take a long time.
Shaping culture requires a focus on norms. While culture is rooted in different beliefs and values, these are extremely difficult to change directly. Instead of focusing on changing what people think, it is easier to focus attention on changing how they should behave.
Shaping culture requires many initiatives. To achieve cultural change, it is necessary to weave together a new cultural fabric from a large number of threads – initiatives that are mutually reinforcing and together can form a strong whole.
Shaping culture requires espoused and enforced norming. To change a culture, you must constantly and proactively take initiatives to communicate where you intend to go (steering by feedforward), while at the same time checking whether course corrections are needed and/or the current direction needs to be locked in (steering by feedback).
Shaping culture requires explicit and tacit norming. To change a culture, you can take initiatives to make the unwritten rules explicit and get people to consciously embrace them (learning by articulation), but you can also leave the social rules tacit and encourage people to copy the positive behavior of others (learning by assimilation).