In a nutshell, we define our mission as being dedicated to improving companies' effectiveness in the areas of strategy, leadership, business innovation and change management, by offering process facilitation, consulting and management development services.
Our more detailed mission is defined on the basis of the four key elements depicted below.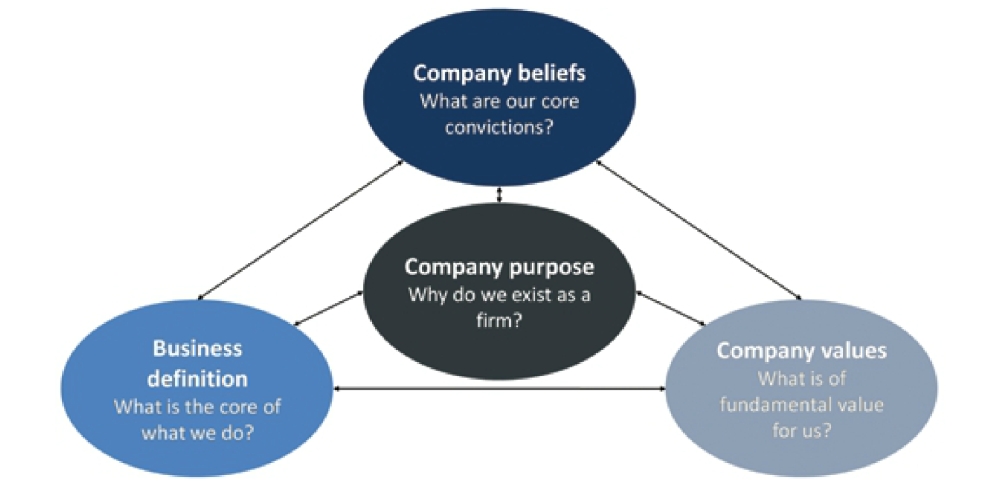 Company purpose: Why do we exist as a firm?
It is our intention to serve the interests of four primary stakeholders groups:
Companies: We want to realize sustainable improvement of our client companies' abilities to strategize, organize, innovate and change. It is our mission to build more robust firms.
Managers: We are committed to improving the capabilities of individual managers and teams to strategize, innovate, change and lead. It is our mission to develop more robust managers.
Researchers: We want to contribute to a better understanding of strategy, innovation, change and leadership by practice-oriented research. It is our mission to develop more robust management theory.
Employees: We want to be the employer of preference for people who want to have an impact on practice and theory by applying one to the other. It is our mission to develop more robust reflective practitioners.
Company beliefs: What are our core convictions?
There are four fundamental assumptions that underpin most of what we do:
You can't outsource development: Whether people want to develop their strategy, their organization or their leadership, they have to do it themselves for it to be effective. Our role can only be to facilitate.
There are no simple formulas: There are no five steps to success that can always be followed. Each situation requires a creative and unique solution. Our role should be to supply creativity-enhancing thinking tools.
There is not one correct view: Each person's mental map is colored by their experience. Education, function, company, industry and country shape our views. Our role should be to encourage productive use of this diversity.
There is nothing as practical as a good theory: While there are no simple formulas and correct views, good theories can help to frame issues and raise useful questions. Our role should be to create and spread such conceptual tools.
Company values: What is of fundamental value for us?
There are four fundamental values that shape our choices and drive our behavior:
Embracing diversity: We thrive on different perspectives, as the vital ingredients for creativity and development. More than tolerated, diversity should be passionately sought. Diversity breeds life.
Cherishing learning: More than money or fame, it is personal growth that we seek and other people's growth to which we want to contribute. Continual improvement motivates. Learning fuels progress.
Respecting ownership: People should own their own problems and be the masters of their own destiny. Externals should facilitate, not dictate.Ownership sparks entrepreneurship.
Pursuing impact: We want to make a difference. We want to serve our four stakeholder groups as effectively as possible, so always consider how to optimize value creation. Impact drives improvement.
Business definition: What is the core of what we do?
There are four business boundaries which delimit the space in which we want to operate:
Issues: All questions of a general management nature are within our scope, such as strategy, leadership, innovation and change, but also governance, entrepreneurship and organization development. We focus on the CEO's agenda.
Services: We are a service company, oriented towards supporting people and firms in their development. Therefore, at the core of our business are consulting and training services. We focus on facilitating different thinking.
Clients: We serve all industry sectors, with an orientation towards medium and large-sized organizations in the for-profit sector, as such companies share many common issues. We focus on medium/large firms.
Geography: The world is our oyster. There are no countries that we exclude upfront. However, we are not oriented towards firms for whom English forms a significant hurdle. We focus on English-proficient firms.